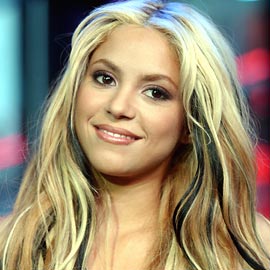 Pop star Shakira talks to EW.com. The Latin phenom dishes about her hit record, her sexy new look, and why, alas, she's not the third richest woman in Colombia by Mark Bautz

Berlitz might not agree, but it seems that the Spanish word for prodigy is Shakira. She signed her first record deal at 13, and within a decade had sold nearly 10 million albums worldwide and had even earned the gushing praise of Nobel-Prize-winning author Gabriel Garcia Marquez (''One Hundred Years of Solitude''), who wrote: ''No one can sing or dance like [Shakira]... with such an innocent sensuality, one that seems to be of her own invention.''

But it wasn't until her breakout performance at last fall's Latin Grammy Awards that the 24-year-old Colombian superstar made a big impression in the U.S. That's all changing quickly. Last month Shakira released her first English-language album, ''Laundry Service,'' which surprised many observers by selling more than 200,000 copies in its first week, finishing just behind Britney Spears' ''Britney,'' and soon going platinum. Because fans will have to wait until the fall of 2002 to see Shakira's world tour, EW.com caught up with the ''TRL'' fave to discuss her hit record, her new look as a blond, and her paparazzi-packed engagement to Antonio de la Rua, the son of Argentina's president.

EW.com ~ Your album debuted at No. 3 on the Billboard chart. Were you surprised it finished that high?

Shakira ~ Very surprised! I had to look at the chart three times to convince myself that it was true! [laughs] I'm an optimistic person, so I thought I would do well -- but not THAT well.

EW ~ Does it bother you to be compared to Britney, Madonna, or Alanis Morissette?

S ~ When a new artist appears, there's a tendency of trying to associate that artist with something familiar. People are a little confused because they find similarities in my style to Alanis Morissette, but they think I'm under Britney's wig! [laughs] Eventually I'm going to earn my own place, so for now I can accept it as part of a natural process.

EW ~ You joke about being under Britney's wig -- is that because you went from brunette to blonde?

S ~ I decided to become a blonde because I wanted a change. I'm human, after all. When I saw myself in the mirror I wanted to see something different. Many people think I became blond because I wanted to be more appealing for American audiences, but it's not true! [Laughs] It would be a much better [marketing] strategy at this moment to be brunette -- because everybody is blonde now.

EW ~ But why not a redhead? There's a big opening now that Tiffany has faded from the music scene.

S ~ I love red hair! I loved being a redhead [when I was younger], but it was not practical. I lived near the ocean, and every time I would go to the beach it would fade so quickly. I swear the water I was swimming in would become pink. It was embarrassing.

EW ~ ''Laundry Service'' is filled with hopeful love songs, while some of your past albums were angrier. Any reason?

S ~ For a long time my songs were written from another place -- in Spanish we have a word which means the opposite of love but is not exactly hate. How do you say this in English... dislove? Let's make up a new word: dislove. So I used to write from the place of dislove, and now I write from the place of love. I have a better understanding of what love means and how important it is. You know how when something good happens to you you have this impulse of going out and sharing it with the world and wishing everyone could experience the same?

EW ~ And that's why you named your album ''Laundry Service''? Explain, please.

S ~ I went through a stage when I felt cleansed, renewed -- thanks to love and music, which are like soap and water... So I highly recommend laundry service -- not specifically my record, of course -- but the idea of love and music improving your life. I know it sounds cheesy, but love is cheesy sometimes! [laughs]





EW ~ You've been traveling around the world to promote your record -- do you have time to listen to other artists these days?

S ~ I do have time, but not like when I was in my puberty. Then I used to lay on my bed and listen to all kinds of music. Now when I get in the car I put on Iggy Pop or the Clash, especially ''London Calling.'' When I can relax at home I listen to Bob Marley.

EW ~ I hear you also like Led Zeppelin

S ~ I love rock & roll -- it's my true passion -- but I'm also very curious about authentic music from other countries. That's probably why my music is a reflection of all that. I try to do a fusion of elements that belong to many cultures, but do it in more of a rock & roll groove with electric guitars and all that.

EW ~ You have a reputation for being in control of every aspect of your career. Is it hard being a strong woman in an industry dominated by men?

S ~ I used to have many more difficulties at the beginning of my career. When I was 13 years old, I recorded my first album. I was very opinionated and sure about what I wanted, and it was very hard to be part of the adult world and give my opinion every 20 seconds when people wouldn't understand that. Executives just wanted to have control of me and my career. I used to wonder, ''Oh my God, is the problem mine? I must be the one with the problem because this cannot be so complicated.'' But I realized as time went by that I was right and I needed to follow my instincts. So that's what I've been doing, following my instincts. Thank God I'm stubborn!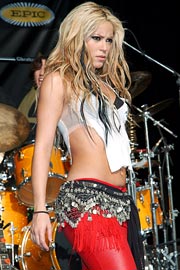 EW ~ Your video for ''Whenever, Wherever'' is very... dramatic. So let's talk about acting. Mariah, Britney, Madonna -- they've all done movies. Why not Shakira, too?

S ~ Hmmm [laughs]. I've never thought about that. In my case, I think there are many more interesting stories to tell in the movies than the one of my life. It's not that interesting, honestly. It's a regular artist's life, with ups and downs, disappointments, moments of success... I think that people already know this story, no?

EW ~ Maybe. But I'm fascinated about all the press coverage you get around the world. What's the funniest or falsest thing that's been written about you?

S ~ Oh, they say that I have a $10 million house. Once they said that I'm the third richest woman of my country. Oh, I wish! They enjoy speculating about my life, what I have, what I earn -- and my love life. They have created romances that never existed.

EW ~ Do they follow you and your fiance, Antonio, everywhere you go?

S ~ I've always had a good relationship with journalists. I answer what I feel I should -- and what I don't feel I should, I don't. But with the paparazzi, it was really crazy. I had never seen anything like that: 50-year-old guys climbing trees like monkeys to be able to take pictures of me and my boyfriend - to catch us holding hands! I mean, it's pretty obvious that if somebody is dating somebody they're gonna hold hands at some point, right?

EW ~ Right... One thing that surprised me was reading that you're half Lebanese and that your name is Arabic. Has anything negative happened to you or your family because of Sept. 11?

S ~ I think this country is evolved enough to understand that there are Muslims who are not Arabic and there are Arabics who are not Muslims -- and most Muslims and Arabics are not terrorists. One thing doesn't necessarily equal the other. I'm pretty sure Americans have that clear, and that's what makes this country one that everyone feels proud of. As for me, I don't have any problems. I come from a Lebanese family that is Catholic -- and we are not terrorists at all!